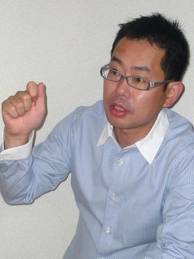 Conversation with One of the Agile Thought Leaders in Japan
I met Kenji some years ago, first at an Agile 20XX conference where he gave an excellent presentation on Mindmapping. Then in 2010, we met at BCS SPA where we had a riveting conversation about Agile Fairytales, soft skills and the power of storytelling for personal development and problem solving.
Last year, we met again, this time at Agile 2011, where he was a track host of the experiential sessions. It was great to have Kenji participate in the latest Agile Fairytale, "The Emperor's New Clothes: Meaningful Interactions in Stressful Situations", co-created by Jenni Jepsen and me.
Most recently, Kenji invited me to share my views on the state of Agile Adoption in the UK. He's been commissioned by the Japanese government to undertake an assessment of the state of Agile Adoption around the world. With such an exciting endeavour, how could I refuse?
Taking part in the interview given me the chance to look back as well as look forward to all that Agile has brought and continues to bring to people and projects: Communication, Community, Collaboration and Continuous Improvement.  I've come to understand that Agile isn't about being right or wrong. It's about being better. Here is an adaptation of the interview we'd like to share with you.
I look forward to interviewing Kenji about the state of Agile Adoption in Japan. May be we can even publish it in two versions: English and Japanese! Watch this space…