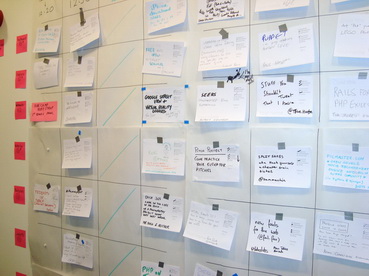 BarCamp London 2009 is undoubtedly one of the best conferences I've been to this year: it's fun, it's inclusive and, most important of all, it's all about people. All this came as quite a surprise since I really didn't know what to expect.
The Story of BarCamp
Once upon a time, there was FooCamp where Friends-of-O'Reilly got together at an annual invite-only participant-driven conference hosted by Tim O'Reilly. Since not everyone could be friends of Tim O'Reilly, some folks got together and created BarCamp, a place where others could participate by presenting their ideas, too.
BarCamp is described as an 'unconference', a conference where the programme is based entirely on material generated by the participants themselves. You really don't get more inclusive or spontaneous than that!
Open Space Technology in Action
FooCamps and BarCamps are based on a simple variation of Open Space Technology format, where participants post up topics they want to talk about in 20-minute timeboxes. Like successful Open Spaces, the success of BarCamp depends entirely on strangers self-organising around passion and mutual interests.
There are two key rules to BarCamp:
'When you come, be prepared to share with barcampers.'
'When you leave, be prepared to share it with the world.'
Real Options at BarCamp London
And since I was lucky enough to get a ticket in, I wanted to give something back that would be useful to most. The result: a 20-min session on Real Options, Bottled Common Sense to Better Decision Making. Around 30 people attended out of a crowd of 200. I described BarCamp London 2009 as a Real Option, just as Agile 2009 was a Real Option for me. We even touched briefly on the importance of applying personal values when deciding the value and application of Real Options Thinking. Judging by the quiet yet definite sound of lighbulbs going off in the room, I think Real Options Thinking resonated with many conference participants.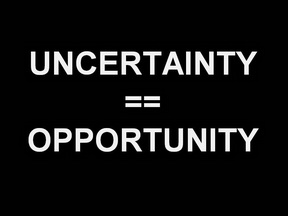 What I liked about BarCamp London 2009
Sessions were run in separate rooms where participants could concentrate comfortably on the session topic.
Each room had a mixture of facilities such as projector, flipchart and tables.
One Saturday alone there could have been as many as 12  x 9 sessions – now that's a lot of Real Options!
It was great to learn from and meet people beyond the Agile Community
A two-day event during the weekend is a great opportunity to meet new people and make new friends
What would make BarCamp London 2009 perfect
A stationery stash provided by organisers so we be even more creative!
An ice breaker that would engage and involve everyone and not just those with a passion for Lego
More BarCamps throughout the year – I wish we could have more BarCamps, perhaps mini BarCamps, may be one a quarter to increase learning from one another!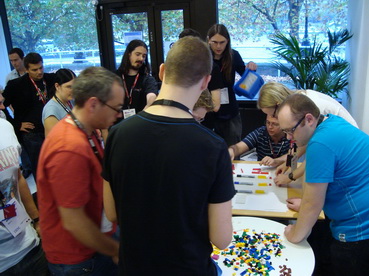 Expect the Unexpected
BarCamp London 2009 was exactly what I've been looking for. BarCamp has helped me better understand people's fascination with Open Spaces, something Marc Evers tried to explain to me at ScanAgile 2009. I think I understand now and I want to go to more Open Space conferences!
BarCamp is living proof that the most invaluable learning is about connecting, sharing, courage, learning and having fun. BarCamp is about leveraging the Wisdom of Crowds. BarCamp is a great inspiration where you can expect the Unexpected. And expect to participate. Get to a BarCamp near you. Go, go, go!
And if you like BarCamp, you'll love XP Days Benelux, a mixture of pre-scheduled sessions and the option of running Open Space sessions!