Playing to learn about the Theory of Constraints
It's 5 pm on a Thursday night and everything's already pitch dark outside. We need at least 7 players to play the Bottleneck Game created by Pascal Van Cauwenberghe but we only have 6 eager participants. Being an Agile Coach has taught me to be resourceful (think Macgyver), so I roam the corridors for a couple more minutes in the hope of netting a few Agile enthusiasts keen to learn a thing or two about process improvement and bottlenecks.
To my surprise, I don't just find one, but two volunteers: Darren and Paul. Both Darren and Paul have been extremely helpful and supportive with our fledgling Agile teams to date. I'm glad the promise of an Agile game and Halloween chocolates prove more enticing than a visit to the gym. It's also a sign that I'm working with a learning organisation.
Favour Brain over Brawn
The Bottleneck Game (also known as 'I'm Not a Bottleneck, I'm a Free Man!' teaches us about the Theory of Constraints (TOC). According to the Theory of Constraints, every organisation has at least one constraint which limits the system's performance in terms of its goal. The theory states that we can improve a system's throughput learning how to recognise and deal with a system's constraint (also known as a bottleneck).
The 5 Focusing Steps
Step 0: Make the goal of the system explicit.
Step 1: Find the constraint.
Step 2: Exploit the constraint.
Step 3: Subordinate everything to the constraint.
Step 4: Elevate the constraint.
Step 5: Rinse and repeat.
Lessons We Learnt Today
If you're rushing, you're probably stressed – slow down instead and you'll improve your quality as well as increase your throughput
Apply improvement changes one at a time
Always measure the throughput before and after applying improvements to verify their effects on the system
Cross-training helps improve the throughput of a team
Small, incremental changes can make a big difference to throughput.
Process Improvement is the New Sliced Bread
Don't let inertia become the constraint. Help your team and your organisation become more agile by striving to be a bit better than you were yesterday every day. Thanks to Alison, Suresh, Bhavna, Paul, Mark, Darren, Jo and Genevieve for being such professionals as employees of The Boats and Hats Company!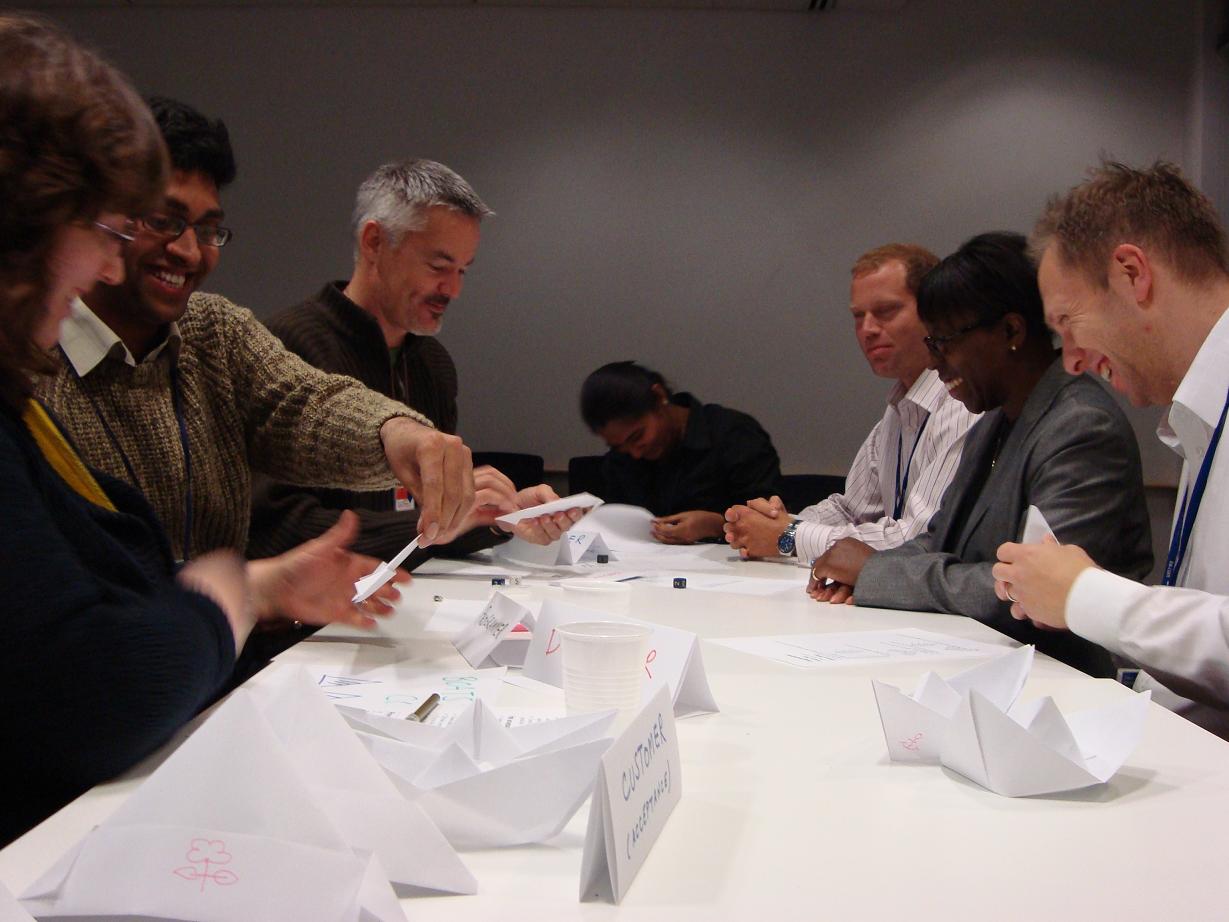 The Theory of Constraints is clearly a hot topic as Pascal's also run the game with one of his clients over in Paris. You can read a more comprehensive account of the Bottleneck Game as played by our French Agilista counterparts here.
Learn About Bottlenecks with Your Friends and Family

Origami isn't just for work, it's for learning, too! The "I'm not a Bottleneck! I'm a Free Man!" game by Pascal Van Cauwenberghe and Portia Tung is licensed under a Creative Commons Attribution-Share Alike 2.0 Belgium License.