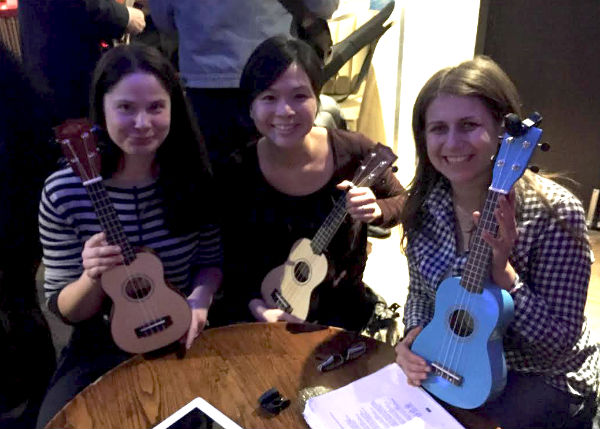 "Without music, life would be a mistake" – Nietzsche
When I was little, I was taken to Yamaha piano classes every Saturday. I remember sitting between two mini world talents as I banged at the keys, vaguely wondering how the other children managed to translate those tadpole scribbles into beautiful tunes.
Then one auspicious day, my mum asked, "Would you like to stop going to piano classes?" To which I replied, "Yes!" And that was one of my earliest memories of the sweet taste of liberation. And many other things besides.
The conclusion from this experience was stored in perpetuity in my brain's computer. Because my computer was efficient, it readily replayed its recorded message at every opportunity: "I am not musically talented. I will never play a musical instrument. I cannot sing…"
… Until the day came when I became a parent and learned that, as a parent,"You can only give what you have". Suddenly, from across the misty distance of time and space, I heard the familiar sound of banging keys and I was paralysed with fear. Of not being good enough. And this time, my child's fate is at stake.
Then somewhere from deep within me, amidst my chilling and profound sense of loss, a gentle and defiant voice spoke up. "Wouldn't it be nice to make my own music? To sing and play with all my heart?"
Without knowing how or when that wish would come true, the most important thing had happened, a pre-requisite for all wishes before they can come true: my heart had made a wish.
Within days, my friend Vira offered me the gift of music in the form of the ukulele so that I could share music with my little girl. And what better way to celebrate life than by sharing the gift of song?
Play for Your Life
I hope you'll be able to join our uke jam keynote (our uke troupe's called The Lost and Foundlings) at BCS SPA on Tuesday, 28 June where we'll be supported by The Fleas who'll bring along ukuleles so you, too, can have a go. No previous experience required, just the willingness to play!
And if you already play an instrument, do bring it to the conference with you that day because uke jams sound even better with all sorts of different instruments!
And if you've always had a longing to learn to play the uke and you fancy buying one to bring along, then a decent starter uke costs around £20-£30 (we recommend Kala or Mahalo available from Amazon and good music shops). Let the music play!