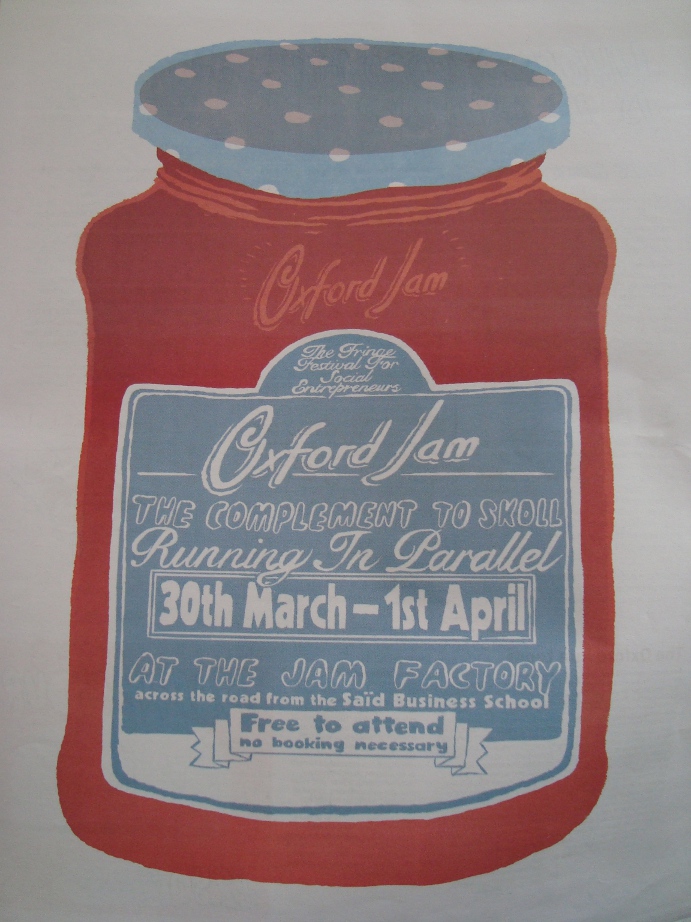 Think "Fringe"
I recently went to my first social enterprise conference, a fringe festival to the Skoll World Forum called OxfordJam. Three words to describe the conference? Inspiring, creative and vital.
"Inspiring" – Because of the variety and range of strangers who came together to share ideas and experiences of how they're contributing to greater good in the world. Most of the attendees were social entrepreneurs, people who strive to do good in the world and create a sustainable business to fund that work.
"Creative" – From the venue (the event was held in a building that used to be a jam factory, hence the name of the event) to the conference booklet (in the format of a funky university newspaper, jam-packed with interesting information). I especially liked the washing line for ideas contributed by participants held together with clothes pegs.
"Vital" – It was refreshing to be surrounded by such a large number of people united by a common purpose "To make the world a better place". Everyone was part of a project or some endeavour, however big or small, to help others.
With great power comes great responsibility
Many people expressed what they do and how they do it in terms of "the bigger picture", with a clear emphasis on the need to better understand the consequences of their actions and the impact of social enterprise in a community, a globally optimised example of the Chinese proverb from "Give a man a fish AND teach him how to fish".
As the day unfolded (I was only able to attend 1 out of 3 days), I was surprised by the number of parallels between my daily work and that of social entrepreneurs:
Make a positive difference: Help make things better.
For greater good: Think and act in terms of global optimisation.
Made to last: Quality is key to making a lasting impact. Enduring change is crucial to sustained improvement.
WIN-WIN: Maximise value and create alignment by asking "What's in it for all of us?" For you, for me and for others.
Baby steps: Small steps can lead to big changes. Like Lao Tzu, the Chinese philsopher, said, "A journey of a thousant miles begins with one step."
Spread your own jam
Following the adage of "eat your own dog food", the most impressive thing about OxfordJam was the congruence between the beliefs on which the event is founded (what the organisers believe in) and how it worked in practice (how the event was run).
An example of this was that the conference was based entirely on a gift economy for the participants, with free entry for all. Even The Jam Factory offered the use of their venue for free in support of the event. The idea of a gift economy is that it's up to you to give when you want, as much or as little as you want and how you want. It's this recurring "free giving" that helps the economy go around. Following this spirit, many of us bought drinks and snacks to support the Jam Factory and some made personal donations in support of the event.
Thanks a million!
To The OxfordJam team: Ben Metz, Amanda Jones and Jonny Mallinson – am looking forward to OxfordJam 2012!
To The Jam Factory: For providing a great setting for the event!
The Gift of Giving
What was my biggest takeaway from the event? Instead of worrying about whether or not we've individually got enough to give or if we're individually contributing enough, give what you can on your own terms. Every little bit helps. Together, we can turn the concept of a gift economy into a reality.
How can you introduce a gift economy at work?