ScanAgile 2009: A Retrospective
Friday, 16 October 2009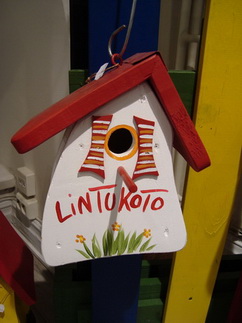 It's my second visit to Helsinki and it's been quite an adventure! It's been almost a year since my first visit.
What Went Well
The location: Getting the chance to see beautiful Helsinki in the fall
Over 280 participants attended – and it's only the second time ScanAgile has been run!
The conference was well-organised, everything went really smoothly!
Learnt a bit about Beyond Budgeting from Bjarte Bogsnes in his experience report on implementing the techniques at Statoilhydro
Being challenged by questions that made me think hard about how I coach and why
Meeting Agilists from all over the world, including Brits who now live in Finland!
Getting a chance to sample Open Space sessions on Day 2 of the programme
The Toyota Way Management Principles session with Pascal: Illustrated how to implement a kanban system using baskets with the help of Snow White's Seven Dwarves and the Evil Queen
Receiving feedback and recommended reading list from Tom Poppendieck (thanks Tom!) on our Toyota Way session
The Conflict Resolution Open Space session by Pascal where we learnt that we don't have to compromise: it's not either or. It's  AND!
Post-conference get-together with the very warm and friendly folks from Reaktor (voted second in 2009 Best Workplaces in Europe competition)  at their very stylish office (with its very own onsite sauna!)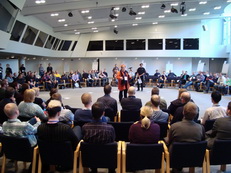 What Went Wrong
Too many theoretical presentations
Too few sessions based on real-life experiences of using Agile
No list of attendees, where they work and the country of where they come from
Puzzles
How do you get the most out of Open Spaces?
What's the best way to hear everyone speak and engage those interested at an Open Space?
Snow White and the Seven Dwarves proved popular with the crowd: Would ScanAgile be interested in featuring an Agile Fairytale session next year?
Lessons (Re-)Learnt
I learn more from interactive sessions
I learn more when I disagree with the material being presented or the speaker because it forces me to question what I think and why I think it
We often ask questions not to find answers, but to merely seek for affirmation of our pre-prepared answers. By asking questions with a closed mind, we limit our capacity to learn compared with when we inquire with an open mind
'You don't lose weight just by standing on the scales' – thanks Bjarte Bogsnes for a great reminder!
Fixing budgets once a year is like having banks that only lend to customers once a year. That simply wouldn't be acceptable nor practical
It's customary in Finland to relax with your colleagues in saunas in just your birthday suit!
Design and creativity are a matter of national pride judging by the myriad of colourful shops of handmade goods and crafts!
Using Thinking Tools such as the Conflict Resolution Diagram allows us to have our cake and eat it! No more compromises through clear thinking. Hoorah!
Instead of eating your own dog food, drink your own champagne instead. Cheers to ScanAgile's organisers and the humorous participants!