Agile Winter School
Tuesday, 8 December 2009

A Week in the Life of an Agile Coach Who Keeps Learning
With Agile, the learning never stops. A good example of this is the marathon of new training courses we launched at emergn last week:
Monday: Agile Overview – a 1-day course that provides participants with enough knowledge to beg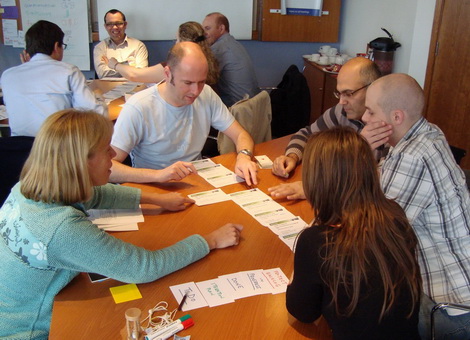 in applying Agile at work (including emergn's version of the ubiquitous XP Game by Pascal Van Cauwenberghe and Vera Peeters). We strongly recommend participants of other courses to attend the Agile overview first to establish a common understanding among all participants of what Agile is and what being agile really means. Judging by the feedback from the participants, this is an effective way of developing a meaningful understanding of Agile.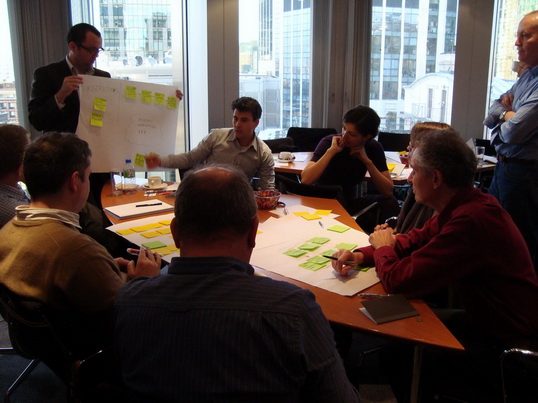 Tuesday and Wednesday: Customer Value Analysis – a 2-day course that combines Business and Systems Analysis techniques to consistently translate business goals into a steady and valuable stream of detailed User Stories and Acceptance Criteria. Instead of retrospectively mining value from what I call a 'vomit of user stories' (which inevitably results in perpetual backlog grooming), we pull stories from value to achieve Value-Driven Delivery.
Thursday and Friday: Agile Project Management – a 2-day course that provides an interactive experience of tools and techniques for tracking project progress (such as Real Options Thinking) and enabling personal and team growth (such as the Theory of Constraints).

Training Delight
The truth is, we have lots of fun creating and delivering the courses and judging by the feedback from many of the participants, they not only have fun but learn a great deal about Agile and personal development in the process. You only have to look at their faces to see that everyone is doing the best they can to improve.
The best thing of all is what goes into the training courses we create. We've taken our collective experience from working as Agile Consultant-Coaches in a myriad of organisations plus our experience as conference presenters, sprinkled in a dash of innovation and creativity and voilà, emergn training courses based on experiential learning to amplify each participant's learning experience.
My Takeaway
As an emergn coach and trainer, I strive to apply the following 3 principles:
Everyone adds value.
You can only change yourself.
Invest in people, invest in yourself.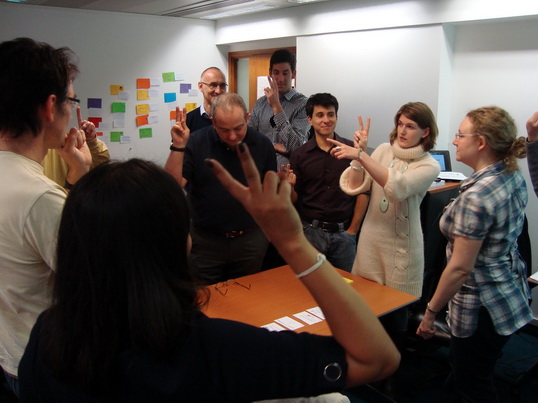 One of the participants quoted golf player Arnold Palmer as saying, 'The more I practice, the luckier I get.' If that's true, then I'm in luck. My acceptance criteria as a trainer for each course I deliver is that I learn at least as much as the participants. True learning demands an equal exchange of knowledge and experience.
Appreciations
Many thanks to the participants for their enthusiasm and pursuit for Continuous Improvement – for themselves and for their teams. We wish everyone  Happy Continuous Learning!
More Learning in the New Year
We're in the process of drawing up the emergn training schedule for 2010. If you want to make work fun and worthwhile, we look forward to meeting you at one of our courses in 2010!