A Life Less Ordinary
Friday, 1 January 2010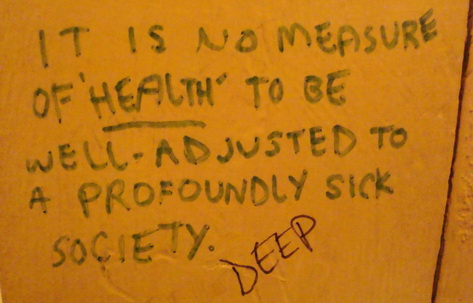 I feel under the weather. May be it's just a passing chill I've caught. Truth be told, I've not been feeling my usual cheery self of late. I just don't feel right.
But that's enough about me. How have you been? How are you feeling? May be you're a bit fed up with it all. Are there times when you wish you had more money? Or may be you dream of being revered by the masses? Perhaps you wish you could hide the signs of ageing? If your answer is 'Yes' to at least one of these 3 questions, then I have some bad news. You may have contracted Affluenza, the nastiest of viruses to be sweeping the English-speaking world. Don't worry though. We have plenty for company.
A Society Under the Weather?
According to Oliver James, author of Affluenza, the Affluenza virus is defined by a pre-occupation with money. The Affluenza virus values consist of Money, Possession, Physical and Social Appearances and Fame. The virus is the product 'Selfish Capitalism' and leads to emotional distress such as anxiety and depression. This emotional distress, in true consumerism 'Compete-by-Eating-Your-Own-Convenience' style, further feeds your hunger for Selfish Capitalism. Selfish Capitalism, in turn, magnifies your preoccupation with the virus values. And hey presto! That's how this vicious cycle keeps going and growing.
But wait! Before you despair because you've been lying awake at night wondering why you've been feeling so glum about life as you know it, there's Hope.
Be Brave, Be Bold
Hope comes in the form of returning to the basics. It's about addressing everyman's fundamental needs to lead a fulfilling life.
Feel secure. About who you are and what you have.
Be authentic. Be yourself and be true to yourself.
Be autonomous. Do what you love. And do more of it – even if it means you go solo.
Feel competent. Have confidence in your own abilities. Get in the practice to help that confidence grow.
Be part of a community. Participate and contribute. Have fun in great company.
Vaccines
Oliver James recommends the following:
Have positive volition (not 'Think Positive')
Replace Virus Motives (with intrinsic ones)
Be Beautiful (not attractive)
Consume what you need (not what the advertisers tell you)
Meet your children's needs (not those of little adults)
Educate your children (don't brainwash them)
Enjoy motherhood (not desperate housewifery/husbandry)
But authentic (not sincere), vivacious (not hyperactive) and playful (not game-playing)
Antidotes
If, like me, you're one of the infected, you need to act fast. Get lots of fresh air. Do more physical exercise. Burn off as many calories as you consume. Do at least one thing you love every day. And, as a friend just reminded me, take stock of all that you have and be thankful for such riches.
How will you transform this winter's discontent? What will you do to make yours a life less ordinary? Make 2010 a Happy New Year!