2009: A Personal Retrospective
Sunday, 3 January 2010

Highlights of 2009
It's been a tremendous year! Here's my whirlwind tour down Memory Lane 2009: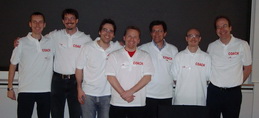 To Do

'I wish to meet Seth Godin, Tom De Marco and Dale Chihuly. I also wish to meet Eli Goldratt again.' I look forward to hearing Seth Godin speak live in April 2010!
'I wish to try out Agile Fairytales beyond the IT industry.' I look forward to introducing the Agile Fairytales to people and places such as teachers and students in schools!
In Progress
'I wish to create a third Agile Fairytale.' Two new Agile Fairytales are being developed as you read this: Pinocchio – On Becoming a Lean Leader (for SPA 2010) and The Emperor's New Clothes – Meaningful Interactions in Stressful Situations (submitted to XP 2010).
Done!
'I wish to learn more in 2009 than I did 2008.' I learnt that the best way to keep learning is with a little help from my friends! I also re-learnt that I need to be more patient and respectful to others and with myself.
'I wish to present the Snow White and Seven Dwarves Agile Fairytale in French in Paris.' We ran the session partly al fresco at XPDay France on a fine Spring day in Paris!
'I wish to collaborate with Agilistas such as Pascal and Vera to create A-W-E-S-O-M-E Agile games that help us all become a bit more agile every day.' Pascal was one of the many people who helped to make the new release of The Yellow Brick Road – Agile Adoption Through Peer Coaching possible!
Ongoing
'I wish to learn more about Lean and use it more explicitly as part of my Agile Coach Toolkit.' I'll continue to consult and coach using Lean as the basis of enduring change. Presenting The Toyota Way with Pascal has helped us to explain how we apply Lean when we work with teams.
'I wish to create more Agile teams that endure long after the coach is gone.' I've helped to coach a number of teams and seen them flourish and learnt a lot along the way.
'I wish to receive requests from you, the Reader, on questions you want answers to and the reasons why you need an answer. Think Selfish Programming: The Radio Request Blog.' Thank You! for all your candid feedback on this blog. I look forward to more feedback in 2010!