Plain as the Nose on Your Face
Friday, 8 January 2010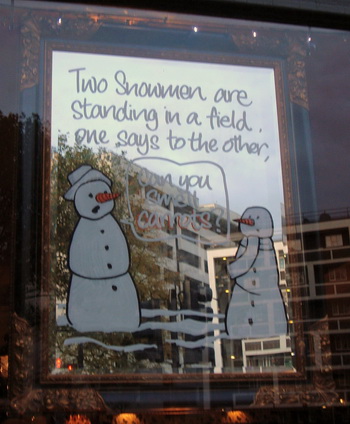 Two snowmen are standing in a field.
One says to the other, 'Can you smell carrots?'
Out in the Field
Imagine. You wake up. It's Friday. It's almost the weekend. The first thing you see is a blanket of bright white snow. With a deep breath, you take in the tranquil setting. You feel quietly envigorated. A thought light as a snowflake forms in the snowdome of your mind. Yes. Today's the day. Today marks a fresh start. A new beginning.
And the thought? It is this: 'I can be better than I was yesterday.' This thought always takes me back to the Agile Values. Seven simple words. Communication, Simplicity, Feedback, Courage, Respect, Trust and Transparency. How many of us know these words by heart? Words that trip off the tongue so smoothly when times are good? Those same seven words that become a thorn in our side when we come under pressure, leaving us deflated?
Thinking, Being and Doing
In Agile, Retrospectives are a good way to take time out and reflect. To have a good root around our minds to make sense of what we have done, what has come to pass and what we intend to do going forward. It's a chance for others to show you what you cannot see for yourself. It's an opportunity for putting those seven values into practice.
And what about the actions we can take to improve? We don't have to wait for snow. We don't even have to wait for a new day or  a new year. The moment is Now.