Agile 2009: A Retrospective
Thursday, 3 September 2009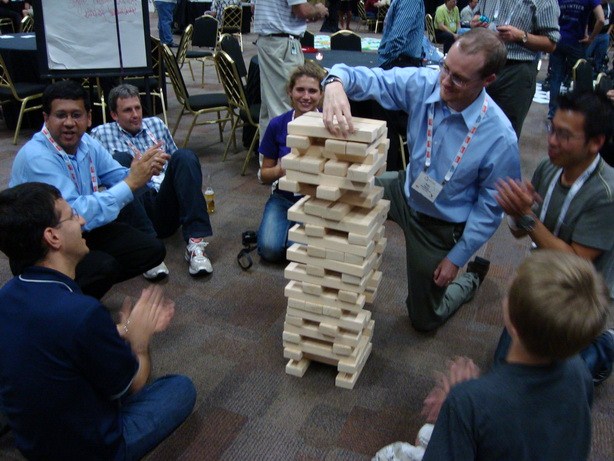 Agile 2009 has been an educational and uplifting conference for me. See for yourself!
My Top Favourite Sessions
Here are my top five favourites out of the dozen sessions I attended:
1. Mapping the Agile Enablement Battlefield by George Schiltz and Giora Morein – A thought-provoking session on strategic thinking demonstrating The Mapping the Battlefield approach for identifying and dealing with influencers as part of Agile Enablement at an organizational level.
2. "Flirting" With Your Customers by Jenni Dow and Ole Jepsen – A fun, yet serious session introducing an 8-step model for creating rapport with your customer through effective communication.
3. Facilitation Patterns and Antipatterns by Steve "Doc" List – An experiential session that reminds us of the importance of self-awareness, empathy and moderation if we are to play the role of facilitator effectively. (Session summary)
4. How to Develop Your Leadership Power Daily: An Agile Approach to Growth by Christopher Avery – An introduction to The Responsibility Model as a personal responsibility and way of improving individual effectiveness.
5. The Bottleneck Game by Pascal Van Cauwenberghe and me – a simulation of a production line at The Hats and Boats Company where we learned to apply the Five Focusing Steps from the Theory of Constraints.
Each of these sessions have three things in common: they are well-presented, thought-provoking and valuable for individual development and Agile team development.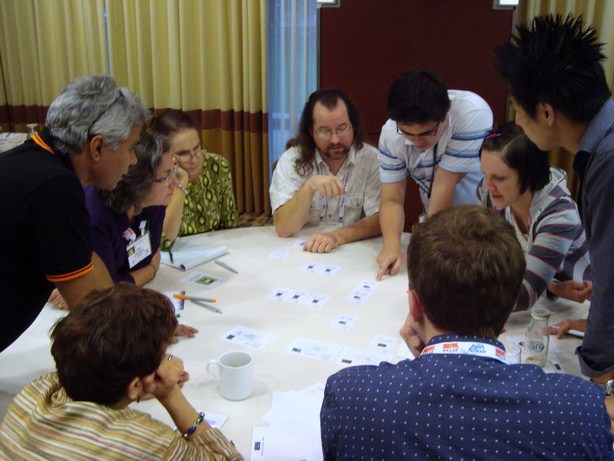 The Perfection Game on Agile 2009
What I Liked About the Conference
Day 1: The Ice Breaker Evening Event – The activities at the event, such as Giant Chess and Jenga, multiple wii game stations and an open space area,  gave attendees a great reason to mingle and network.
The Can-Do attitude of the conference helpers and presenters was a good example of collaboration in action.
Day 4: Dinner Banquet – The quality of the dinner was superb for a meal served to a table of 8 let along for 1,400 diners.
Day 4 Keynote "The Dawning of the Age of Experience" by Jared M. Spool – An entertaining and educational talk on the importance and relevance of user-centred design in our lives.
Participants were exceptionally forthcoming with their session feedback which should help improve future runnings of the sessions.
Watching Ola Ellnestam and Gerard Meszaros in the finals at Programming with the Stars reminded me of what software craftsmanship looks like in action!
Discovering that The Business Value Game doesn't make learning business value modelling sufficiently explicit.  
Getting better acquainted with old friends and making new friends.
The city of Chicago provided numerous opportunities for promenades to relax the mind and re-charge the body after a day crammed with learning.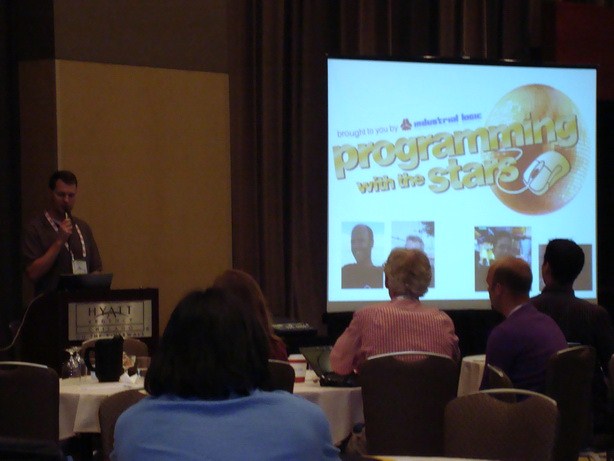 What Would Make the Conference Perfect
Find a way for attendees to familiarise themselves with the programme quickly and easily (it took me at least an hour per day to decide on a session shortlist).
Find a way of reminding attendees which sessions they attended to fuel meaningful conversations during the breaks.
Create opportunities for the different types of attendees to cross-stage mingle instead of enforcing silos by primary interest.
Kick off the conference with a facilitated ice breaker exercise to encourage mingling from the start.
Intersperse the conference with ice breaker exercises to encourage more mingling throughout the conference.
Introduce One-Minute-Presentations by session presenters at the start of every day (or every morning and every afternoon) so that attendees have more information on which to base their session choice.
What about Agile 2010?
As Agile Adoption becomes increasingly widespread, Agile 2010 will be instrumental in enabling face-to-face knowledge sharing around the world.  Agile 2009 proved to be such a hit that I'm already looking forward to next year's conference in Nashville, Tennessee, home of country music. I hope this means there'll be lots and lots of dancing. Best get practicing!
Meanwhile, Thank You! and Goodbye for now.