Celebration of Life
Friday, 2 October 2009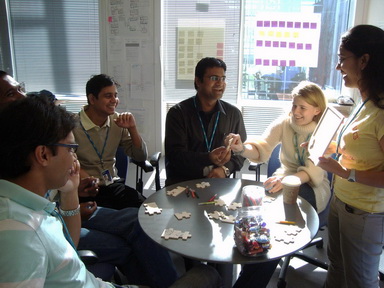 'Be the change you want to see.' – Gandhi
Agile as a Party
I like to think of Agile as a party. And like any good party, everyone gets invited. It's then up to you whether or not you show up. And when. If you do, it's then up to you how much time and effort you want to put in. As to whether you're a party animal or a party pooper, the choice is entirely up to you.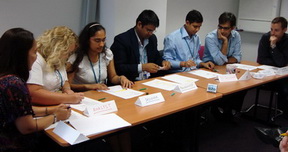 The key is to include everyone on the invite. Agile, to me, is about inclusion. It's about making-change-for-the-better an option for everyone. It's the kind of option that has no expiry date.
Party On!
The folks who have the most fun at such a party are those who have an open mind. Folks who'll give things a go, including that dodgy looking punch that looks too funky a blue to be made from 100% natural ingredients. Or may be you do the Macarena because it reminds you of your first year at university.
And that's the thing I like most about Agile. I never know upfront what I'll get personally out of a day's coaching or consulting. The only thing I can be certain of, right from the start, is that it's going to be a lot of fun. That's the thought that gets me started. It's also the one that keeps me going.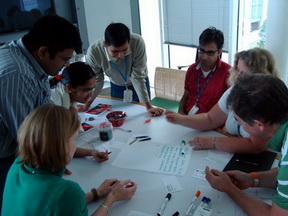 Take today for instance. I'm on the last day of an Agile Healthcheck engagement with a team who's Agile Enablement journey began almost exactly a year ago. The team invited me back to help take them to the next level of applying the Agile Values and Practices. We began by identifying a handful of goals, back at the start of September, such as 'Increase team customer satisfaction' and 'Increase team velocity' and defined acceptance criteria for each goal so we would know when we were done.
A month on, I'm back for a Show & Tell of the Team Improvement kind, to see how many of the acceptance criteria the team has met in 4 weeks (two iterations' worth) of concerted effort on Continuous Improvement.
A lot has happened. Judging from the smiling faces that greet me, the team's proud of what they've achieved. And so they should be. It's a humbling moment to find oneself among people who rise to the challenge of becoming better. People who strive to improve despite the alternative, namely, this-is-what-we've-always-done-and-that's-the-only-reason-we-continue-to-do-it attitude otherwise known as Mediocrity.
Learning the Unexpected
So what did I learn today? It turns out today's Gandhi's birthday. And how did I get to hear about it? During the 'Information' part of the Temperature Reading exercise. It's exactly this sort of serendipity that makes me smile as I look up at the team's new poster with intriguing smileys hand-drawn by each of the team member which reads:
Everyone has value.
You can only change yourself.